External examination of the breast. Item 4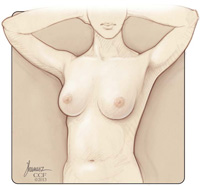 Place your hands behind your head and stretch your arms forward.
Once again, turning from side to side, examine the outer parts of your breast.
Don't forget to examine the border under your breasts. You may need to raise your breast with your hand to see this area.